Patternreview.com had a Sewing for Men contest, and I entered the pea coat I made for Eamon. This was the first thing Eamon ever asked me to make for him so I had to admit I was delighted, and worked on it steadily until it was finished. The pattern is Burda Magazine 10-2006-129. They made it up in leather and their pockets were placed much higher due to the belt in the design. I eliminated the belt and made it in black heavy wool.
My pattern review
I also entered the
Pendleton wool shirt
I made as a Christmas present for Mike. Got some nice comments on this, too, but the pea coat was very popular, and it won 1st place! The prize is a free online class at
Patternreview.com
. Excellent--I will use it!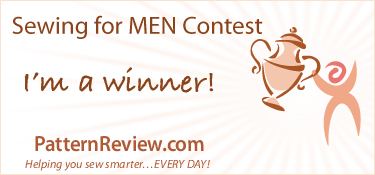 By the way, I have a group on flickr.com called
Sewing for Men
. I've been trying to get it going, but it has bee tough attracting entries, so spread the word!